We Serve
Serving since 1956

Saraland Lions Club
District 34-C, Alabama, United States
Eye Glass Donation Boxes
Lions clubs sight programs help prevent blindness.
The Saraland Lions Club, as part of this mission,
collect used eye glasses to send to the needy. The
collection boxes can be found at:
(Large Wooden Boxes)
Regions Bank on Hwy 158
Dr. Rubenstein's Office
Mobile Eye Clinic Hwy 43
Saraland Civic Center
Saraland Senior Center
(Small Cardboard Boxes)
Eye World
Premier Eye Care 610 Providence Pk Dr. E
Saraland Chamber of Commerce office
Police Station Hwy 43
Saraland United Methodist Church
Regions Bank on Hwy 43
Catfish Junction
La Quinta Inn Satsuma
Saraland Schools
Premier Eye Care - 2880 Dauphin Street
Premier Eye Care - 3701 Dauphin Street
(Metal Mail Box)
Family Security Credit Union on Hwy 43
(Large Cardboard Box)
Saraland Walmart - Pharmacy Door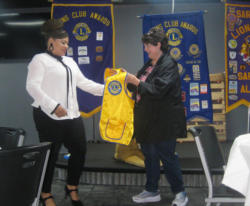 Want to join us?
Click here to find out how.
Joining the Lions Club is a great way to serve your
community while meeting new people and having
fun!
March Meeting
Vesting of 1 year
Member
Meetings are held on the 1st & 3rd
Tuesday of each month at Stillwater
Methodist Church (formerly Saraland
United Methodist Church) at noon.
Board Meetings are held at 11:15 am on the first
Tuesday of each month.
Visit our new web store
and purchase
Terri Lynne Premium Nuts, Dried Fruits,
Chocolates, Sweets and more. 30% of your
purchase will go to the Saraland Lions Club.
Our Saraland Lions purchased and donated
40 needed shirts to
Camp RapAHope to
help children in
need!
Saraland Lions Club Yard Sale at Storage
Sense, May 7, 2022
Saraland Lions at Mobile Lions 100 Year Celebration
Saraland Lions Club Induction of New Officers
for 2022-2023