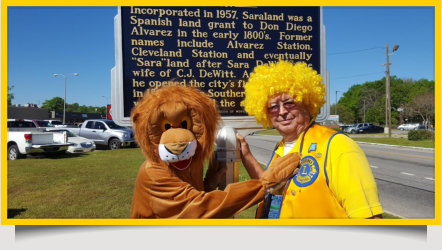 Gallery
Serving since 1956

Saraland Lions Club
District 34-C, Alabma, United States
60th Anniversary Celebration February 16, 2016
#DignityHarmonyHumanity
The Saraland Lions Club March 15 meeting featured a
display of paper cranes. The Lions' paper crane
campaign is to promote

Dignity, Harmony and
Humanity
. This is the theme of International President
Dr. Yamada of Japan. Learn more at
http://www.lionsclubs.org/resources/EN/pdfs/2015theme
_highlights.pdf.
2016 Annual Pancake Breakfast
At the

2016 Alabama Lions State Convention

in
Mobile two Saraland Lions Club members received
an award. Lions Nick Patel received the Hospitality
Award and Lion Ron Mitchell received the Presidents
Award.
I was invited by Lion Carmon Nitteberg, a
teacher at our middle school, to talk to the 5th
and 6th grade National Elementary Honor
Society about collecting used eyeglasses. This
organization had a project of collecting used
eyeglasses and they wanted me to tell them
why we collect used glasses. They collected 89
pairs of glasses. We have some very fine young
citizens in our city schools who just wanted to
help people in need. It was a privilege and
honor to meet these fine students. Their
parents must be proud of them .
- Lion Phillip Woods
Lion Phillip Woods speaking at
Saraland Middle School
Saraland High School Leo Club Induction Ceremony
September 22, 2016
AHEPA Food Distribution September 2016
Saraland Lions Received the Centennial
Service Challenge Award at the October 29,
2016 district meeting.
First Responder Breakfast - November 15, 2016
Three Saraland Lions attended the District 34C
Leadership Training in Evergreen on May 13,
2017.
Pancake Breakfast - March 29, 2017
more info here
Year end banquet at Catfish Junction on
June 19, 2017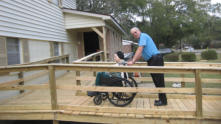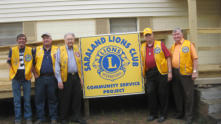 Handicap Ramp build February 2018 - the largest
one we have ever built!
Bell Ringing at Walmart on December 2, 2017
for the Salvation Army
2018 Pancake Breakfast
Here are just a few of our images from December
2019. It was a busy time. We participated in the
Christmas Parade, Mistletoe Market, Bell Ringing for
the Salvation Army at Walmart, Packing Backpacks
for the schools. In November we distributed food
for the residents of AHEPA in Saraland. We Serve!
2020 Pancake Breakfast+ was a
great success!
March 14, 2020
Thank you to all the Lions who helped. Thank you
to the Saraland Leo Club for working the event with
us. Thank you to the community organizations that
helped sell tickets. Thank you to Catfish Junction
for hosting our event and thank you to your staff
for all their help at the event and during planning.
And thank you to the Saraland community for
attending the breakfast this year. Your support will
be used to help our community in many ways.
AHEPA Grocery Delivery June 22, 2018
Lions Service 2020
October 1 Roadblock was a Success!
Thanks to our volunteers who came out to help.
Bell Ringing 2020 (For the Salvation Army)
2021 Pancake Breakfast is May 1 at
Saraland United Methodist Church on
McKeough Street
Drive Thru Only!
2021 Officer Induction was held on June 15, 2021.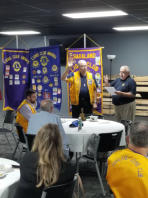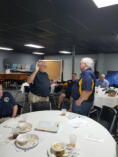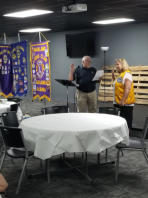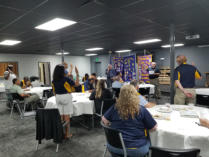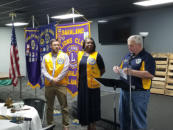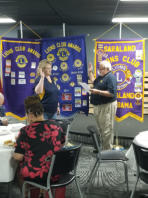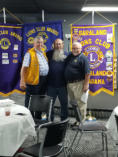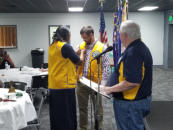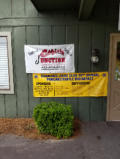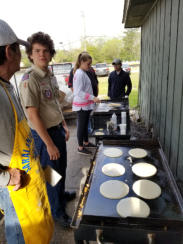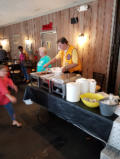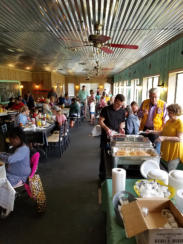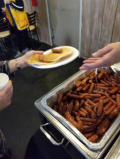 2019 Pancake Breakfast
Fundraiser to Benefit Saraland
Organizations and Other Lions
Club Charity Projects
The 11th Annual Pancake Breakfast
will be held on Saturday, March 30,
2019 from 6:30 a.m. until 10:30 a.m. at
Catfish Junction in Saraland.